Knowing how and when to plant a fruit tree is crucial to growing a healthy, well-yielding, and long-lasting fruit tree. If you're wondering about the right location and time to plant your fruit trees, you're in the right place.
The best times to plant a fruit tree are in winter and early spring. Plant a fruit tree before dry summer weather for proper growth. Dig a small hole for bare-root trees and water them once a week. Keep insects, diseases, and pests away from the trees with regular inspection and pruning.
There are various fruit trees that you can choose from. Some of them are self-pollinating while others are cross-pollinating. Depending upon the space in your garden, you can get either one and enjoy exotic fruits. So, let's find out about fruit trees, their types, planting, and maintenance!
When Should You Plant Fruit Trees?
Planting fruit trees is much more complicated than planting lettuce or pansies. But if you know the right time to plant fruit trees, you can get ample fruits. Having fruits in your garden is a way to cherish nature and enjoy it. You can plant your favorite fruit tree and enjoy it for a lifetime.
The best time to plant a fruit tree is before its dormant phase ends. Fruit trees are dormant during winter through early spring. That's the best time to plant fruit trees — from December until early March.
Planting fruit trees in the summer isn't a good idea. In the summer, the moisture content of the soil is low and the temperature is high. Such conditions aren't suitable for fruit trees.
If you're using containerized fruit trees with their roots established in the soil, you can plant them almost any time of the year. However, the best months for these trees are September through April (early winter until early spring).
If the roots are bare and free of soil, packed in moisturized materials, avoid planting them in summer. Late winter and early spring are the best time for these roots. That means you can plant bare-root fruit trees in February, March, and April.
Different Types of Fruit Trees
There are numerous fruit trees in the world that you can plant in your garden. Let's discuss some common ones that are easy to plant and maintain.
Domestic Apple
Apple trees are among the most beloved fruit trees due to their nutritional benefits and delightful taste. Apple trees have different varieties and include both self-pollinating and cross-pollinating trees.
They require a lot of space and grow quite fast up to a height of up to 40 feet. 
Read our guide on how to grow apple trees.
Cherry Tree
Cherry trees aren't only popular because of their fruits but also due to their beautiful flowers. Cherry trees bloom into mesmerizing flowers during springtime. They can enhance the aesthetic of your garden while providing fruits for you to eat.
Cherry trees grow best in full sunlight. Cherry fruit trees are shorter than apple trees.
Blackthorn
Blackthorn trees are perfect if you want to attract birds to your garden. They grow into bluish-black berries. These are used for making seasonal sloe gin. Full sunlight and moist soil are what's best for blackthorn trees' growth.
Citrus Trees
Citrus trees like orange, lime, and lemons are a great addition to your garden. They grow best in tropical and subtropical climates. If you live in a temperate region, grow citrus trees indoors by getting mini trees — like this dwarf lemon tree (on Amazon) — and planting them in containers.
Fig Trees
If you want a small tree, get a fig tree. Some fig varieties look like vines while the trees don't grow more than 10 feet tall. They have an exotic taste and are perfect for gardens with less space.
What's the Difference Between Self- and Cross-Pollinating Trees?
There are two main types of trees depending upon pollination. These are self-pollinating, or self-fruitful, and cross-pollinating, or non-self-fruitful.
Learning about the difference between the two is important. This way, you can choose a suitable tree for your garden.
Self-Pollinating Trees
Self-pollinating trees don't require a companion tree nearby. They can pollinate themselves by transferring pollen from the anther to the stigma. Anthers and stigmas of the same tree are used in self-pollinating trees. So, if you only have space for one tree, use a self-pollinating one.
Some self-pollinating fruit trees include:
Citrus Fruits

Apricots

Strawberries

Raspberries

Sour Cherries

Grapevines

Pomegranate

Plums

Persimmons

Cross-Pollinating Fruit Trees
Cross-pollinating fruit trees require at least one companion tree next to them. Without a companion, pollination won't happen. The pollen is transferred from the anther of one tree to the stigma of the other. Honeybees or wind play a role in transferring pollen in cross-pollinating trees.
Cross-pollinating fruit trees include:
Apples

Pears

Elderberries

Blueberries

Japanese Plums

Sweet Cherry

How to Plant Fruit Trees
Planting fruit trees requires a good location, suitable soil conditions, and proper watering. Different fruit trees require different conditions. However, some factors remain the same for almost all fruit trees. So, let's find out how to plant fruit trees!
1. Find the Right Location
Planting fruit trees in a location with proper sunlight is important. They require a minimum of six hours of sunlight. If you want your fruit trees to flourish gorgeously, 8 hours of sunlight per day is ideal for them.
2. Prepare the Soil
The condition of the soil plays a huge role in the growth of your fruit trees. Plant fruit trees in a place with well-drained soil. Moist soil under the trunk of your trees causes diseases.
Planting in a pot is easier if you're using a dwarf fruit tree. A pot like Classic Home and Garden Honeysuckle Planter (on Amazon) is perfect for a small garden.
3. Dig the Hole
A hole twice as deep as a bare root or potted tree is ideal for planting a fruit tree. The hole shouldn't be too big — just enough to hold it in the soil.
4. Backfill the Soil
After placing the root in the soil, fill it with extra soil. Remove any broken roots from the soil before completing the planting process and add a layer of compost.
A compost like Miracle-Gro Fruit and Citrus Plant Food Spikes (on Amazon) is a good option for citrus fruits.
5. Water Well
After planting and backfilling, add a generous amount of water to the soil. Soaking the entire root ball will prevent any shock to the roots.
After that, water once a week in the springtime. Avoid watering too much during winter. If there isn't sufficient rainfall in summer, water the trees once a week.
Maintaining Fruit Trees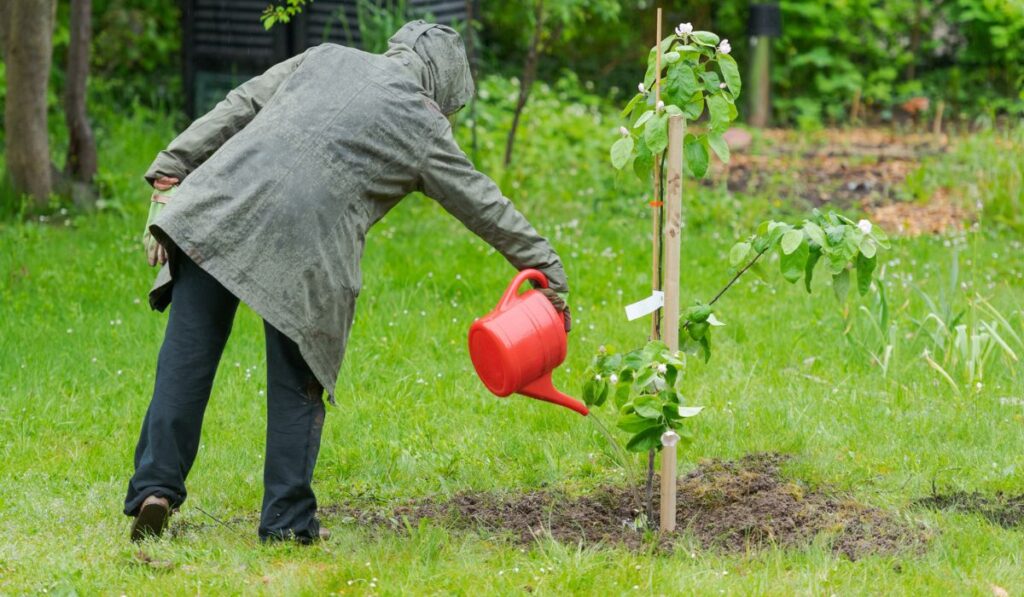 Maintenance of fruit trees after planting them isn't rocket science. You only have to consider a few things and inspect the trees.
Keeping diseases and pests away from these trees is important if you want a healthy fruit tree. Here are some tips and tricks for maintaining fruit trees:
Regular Watering
Don't just plant your trees, water them once after planting, and forget about it. Yes, rainfall is a good source of water for your trees, but having a consistent water schedule is ideal for the growth of your fruit trees.
You can use a moisture meter like the General Tools Digital Moisture Meter (on Amazon) to check your soil. If the soil's moisture isn't sufficient, water it to keep the tree healthy. The trees should be getting 5-6 gallons of water once a week through irrigation or rainfall.
Regular Inspection
Inspecting your trees regularly from the start will save them from diseases and pests. If a disease becomes severe, you might need to cut a large part of your tree. Therefore, it is better to take precautionary measures to protect your plant.
Both fungus and bacteria love to attack fruit trees and ruin them. You can use a dormant spray or any other suitable remedy for the problem.
Take off insects by hand if there are only a few at the start. If you don't want birds and other wildlife roaming around your fruit trees, use a net over them.
Pruning
Pruning reduces overcrowding, which can lead to insect attacks and diseases. Pruning your fruit trees regularly means a healthy and long-lasting tree with exotic fruits. It also helps you to shape your tree as you like, keeping the branches away from spots where you don't want them going.
Get rid of any suckers or water sprouts before summer. The best time for pruning fruit trees is in late winter. All you need is a hand pruner such as the Corona ClassicCUT Hand Pruner (on Amazon), and you're good to go.
Mulch Layers
Adding a thin mulch layer away from the trunk of your fruit tree will keep the weeds away and add beneficial bacteria to the soil. It retains the moisture of the soil so that the trees don't dry out.
Branch Spreading
Use wooden spreaders to keep the branches away from each other. Do this when the tree is young so branches are well-spread when the tree matures.
Final Thoughts
Now that you know how and when to plant a fruit tree, you can plant your favorite fruit at home. Planting fruit trees means yummy fruits in your garden. Some of the fruit trees bloom into beautiful flowers, making your garden look amazing. So, it's a win-win situation in all cases.
Just make sure to maintain the fruit tree after planting it for a good yield. Watering the trees at the right time and avoiding overwatering is what will keep them healthy. So, which fruit are you going to plant in your garden?